The Weekly What: Friday, December the 7th, 2018
December 10th, 2018
Learn about Advisory, one of the design elements that sets New Harmony apart from other schools.
This week, instead of our usual Leaving-to-Learn excursion, we stayed-to-learn from three environmental journalists who visited us at New Harmony.
In three rotating blocks on Monday afternoon, environmental journalists Amy Martin, Julia Kumari Drapkin, and Nathaniel Rich visited each of our classrooms to host activities and discussions surrounding how journalism, and other forms of mass communication, is one of the most effective tools we can use to combat climate change.
Nathanial Rich writes for the New York Times and directs education at the Pulitzer Center, a non-profit that supports global journalism projects focused upon overlooked issues.
Amy Martin hosts a series of weekly podcasts on the impact of climate change in seven arctic communities. She spoke to the kids about how public radio is alive and can tell a unique story heard across many devices all over the world.
Julia Kumari emphasized that one of the most simple daily tools that we use, social media, can make a huge difference in spreading awareness and tracking data about where drastic changes in climate are happening. Learn more about her data tracking program, I See Change here.
Environmental Science & Awareness
This week, we researched the conditions and requirements for life on earth and from that created their own miniature-biospheres. This project was challenging but incredibly enriching for students because of the all encompassing and multidisciplinary nature of the biosphere. The purpose of the lesson was to show the interconnectedness and fragility of each Earth system and how they rely on one another to stay healthy and keep all earthlings alive.
Calling All Community Partners
Over the next month, as part of 2nd Quarter Exhibitions and the career-exploration process, our students will be contacting professionals to conduct brief informational interviews. Students will engage professionals who work in fields related to their interests. These interviews help students gain a deeper understanding of a profession and the career path and nuances of the daily work required for a range of professions.
To support students in this process, New Harmony is requesting that representatives from organizations interested in engaging our students provide their contact information to anthony@newharmonyhigh.org.
New Harmony High staff will then move forward in facilitating informational interviews for our students.
All New Harmony students are expected to participate in one out-of-school volunteer opportunity per quarter.  Following are options in which students can participate.
When: December 8th    10am-1pm


What

: Planting Cypress and Red Maples in City Park's bioswale. As the trees mature they will shade out the grassy undergrowth and allow more water to be captured.When: December 15th


What

: Mid-City planting

Please fill out this form to be covered by their insurance.

Learn How to Reforest YOUR Block!

Learn the steps and strategies on how to reforest your neighborhood and your city by becoming a SOUL Block Captain. Block Captains engage with their neighbors, consult with them about proper tree species and locations, collect permits, and more.

Lights on the Lake Celebration
&
Boat Parade


When: December 15th
There are 2 shifts:
1pm-4pm
4pm-9pm

What: Seeking volunteers who can be upbeat while helping sort trash and recycling during the event.
Volunteer sign-up Please, denote NHH as your volunteer group.

Kingsley House Christmas Family Adoption


When: December 16th

What: New Harmony Interact students are partnering with New Orleans Rotary club to adopt four families for Christmas and gift them by fulfilling their wishlists for the holidays.
Students will be shopping for gifts (via Rotarian donations) and wrapping gifts prior to delivery.
Big Picture Learning Conference
Reno, NV
This week, our School Leader, Special Education Coordinator, and Student Support Leader visited one of our sister-schools in Reno, Nevada. At Innovations High School, we visited staff and students in order to learn from their successes. One of their students Max created a project to have a traversing wall installed inside the school. Students and staff utilize the donated wall as a way to stay physically healthy and mentally challenged.
Guest Speaker
Nicole Deggins
Nicole Deggins is one of the county's leading birth advocacy experts and founder of Sista Mid-Wife Productions. She is a trainer, public speaker and community educator working to eliminate perinatal disparities and bring transparency to prenatal education and the medical obstetrical system.  Nicole provides education, training and consultations for communities, birth workers and organizations that work with child bearing families.  She actively supports efforts to increase the numbers of African American midwives, doulas, and birth advocates as critical step in eliminating the perinatal disparities that plague the African American community.

Today, she spoke with our students about her career path, physiological and biological sciences, and how studying these subjects can provide a life full of diverse career options, while still being able to pursue a passion for social justice.

Exhibitions are at the core of New Harmony's learning model. Each quarter, students lead their own research projects based on interests and academics. These interdiscinplinary projects are unique to each student. If you are interested in attending our quarter two exhibitions and see 
what
 they're all about, please email 
hope@newharmonyhigh.org
 so that we may schedule your visit.
HARMONY HIGHLIGHT
Michael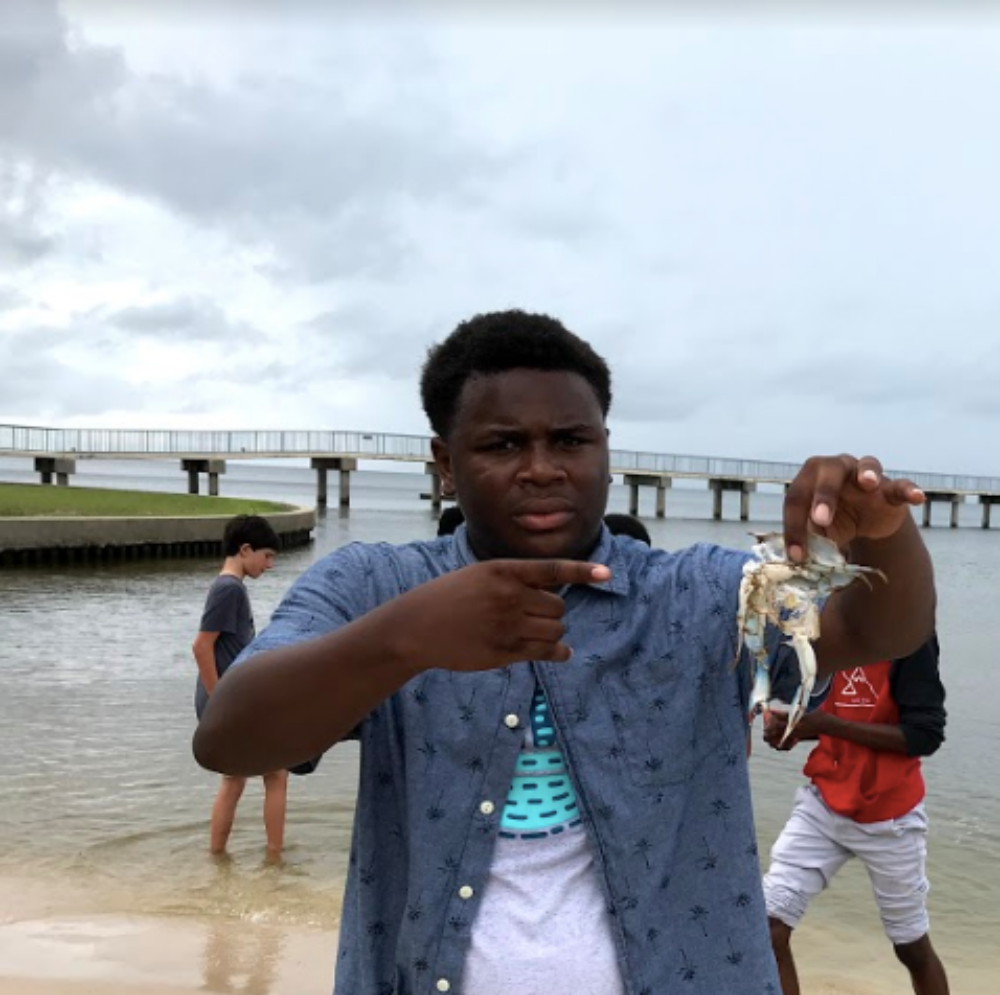 What is something you do well?
Play football and rap. I feel like I was born with the talent … and also I'm a dog at the bass and snare drums.
What is something you learned in the past week?
I learned that you shouldn't always judge somebody because you don't know what they go through at home; don't stereotype people.
What is the biggest misconception people have about you?
When I came to this school, I asked people to describe me in three words.  They would say, "Immature and childish," but then I gave them my phone number and we would talk all night, everyday.  I asked them again to describe me and they said, "Supportive, loving, caring." When people get to know me, they see I'm different than what they thought the first time.
What is the biggest dream you have yourself that you are afraid to say aloud?
I want to be a chef and follow in my dad's footsteps because I love cooking.
Who has had the biggest influence on your life so far and why?
My daddy. He taught me how to do the grill before anything (my mom taught me the stove); he taught me how to make hot sausage first, and now I can cook all kinds of stuff on the grill.
What would you do differently if you knew nobody would judge you?
People are gonna judge me automatically; but if nobody would judge me, I would walk around everyday with no shirt on.
What do you like about New Harmony?
I like it that they make it comfortable for us to learn and not force anything down your throat.  You can wear your hair anyway you want and dress however. It's just better for the kids. It's a great place.